Does it look like you might need to touch up your roots?
Perhaps it is just the sexy new hair style trend that has surfaced this fall called the
Ombre
.
Actress
Drew Barrymore
rocked the scene with it and the new style seemed to take off.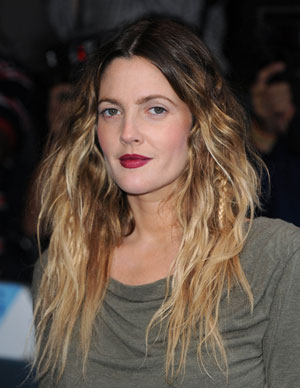 The
Ombre
basically looks like you are due for a color touch up but in a good way. The roots are dark and long, and the highlights pick up at your cheekbone.
Having dark roots is turning out to be a huge trend this winter… probably because…
1) It is a low-maintenance hair color technique. It is a fairly easy hair color to keep up.
2) It is an anti-aging hair color trick. Remember when you'd get sun in the summer as a kid your hair would lighten drastically, then by winter you'd have the Ombre look naturally.

The Ombre reminds us of that youthful look.
3) Ombre is an easy transitional color trend if you are trying to grow out your roots. Even though the style is done "on purpose", it can be a great way to outgrow your color.
4) Ombre is just fun and trendy… need we say more?
So... if you are thinking about a blonde hairstyle but have feared it wouldn't be right for your complexion,
Ombre
hair might be a nice compromise.
Keep your natural color closer to your face and transition as light as you dare at your ends.
Remember… trying this at home might not give you the desired results you want, but done right it could be very flattering.
The Ombre… what do you think? Are you digging the look?
Belleza Hair Salon in Murrieta